Why Villages?
At Reach A Village, our inspiration comes from the words of Jesus in Mark 1:38, "Let us go somewhere else – to the nearby villages – so I can preach there also. That is why I have come." Instead of remaining in places that had already received the Gospel message, Christ intentionally chose to go and preach in unreached villages so that more people would come to faith in Him. Our ultimate goal is to finish the mission Jesus gave His disciples – to take the Good News to the ends of the earth so that every person in every village has the opportunity to have a relationship with Him.
During his many years as a missionary to Southeast Asia, Robert Craft had noticed that missionary efforts are often concentrated on cities, while small villages in rural areas are neglected. He saw a pressing need to go beyond the urban areas and take the Gospel to poor farming villages and isolated places that are still waiting to hear about Jesus.
1 Million Villages Remain Unreached!
Even after centuries of traditional missions work, there are over 1 million unreached villages and more than 3 billion people worldwide who have never heard the Gospel of Jesus Christ even once! How will they hear, unless someone is sent to them? There are places where foreign missionaries cannot go due to political, cultural or geographical restrictions. And, even if they could, would that be the most efficient or effective way to reach these places with the Gospel?
Unreached, But Not Unreachable
Craft recognized that the most effective way to reach these people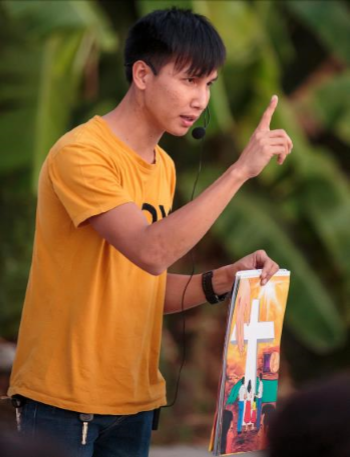 is to mobilize local believers who live in villages a short traveling distance away. Over decades of ministry, he had developed strong relationships with national Christian leaders who are eager to train and send their people to the most remote, isolated and forgotten parts of their countries, but the level of poverty and lack of training and resources is holding them back.
In 2012, Craft founded Reach A Village to empower them by providing training in proven methods, culturally appropriate study materials, and Scriptures in the local language to reach their people for Christ, nurture new believers, and start churches in unreached villages. We work with a vast international network of ministry partners, local Christian leaders and believers across Southeast Asia, Eurasia, China and parts of Africa. Barriers are broken down because unreached people are learning about Jesus by studying the Bible with someone who comes from the same country, speaks the same language, and is familiar with the local culture and customs.
An Overwhelming Response!
When unreached people hear for the first time about a loving Savior who sacrificed Himself for them, it is a life-changing experience. Every day, hundreds are responding and beginning a life with Jesus! Our partners use three main types of ministry to reach villages: starting new churches, discipling new believers, and children's ministry. After completing a series of Bible study lessons, seekers and new believers in these ministries receive their own copy of God's Word in their language (as long as Scriptures are available). The Bible study group often forms the foundation to start a new church.
When the Gospel arrives in a village, hope and transformation spread through lives, families, and the entire community. As people immerse themselves in the Bible and come to know Christ more, further change occurs. As lives transform, so does the moral fiber of the village. The local church will remain, providing continued discipleship and further outreach in the community and beyond for generations to come!
Look at our annual report to see the impact of this model of ministry (2019 Annual Report)