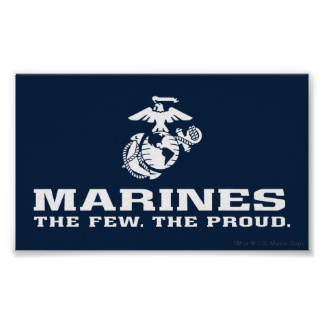 The Marines are the oldest branch of the U.S. military (Est. 1775). Their recruitment slogans have always attracted some of America's bravest and finest. Bold slogans like, "We're looking for a few good men!" or "The few. The Proud. The Marines." have always been their trademark. We all know that the Marines take on some of the toughest and most dangerous assignments in the world. They are often the first to arrive and the first to die. There is always a cost to war and marines are recruited with that fact clearly before them.
It is also interesting that Jesus always seemed to be uncomfortable when masses of people followed Him just to see the miracles or to be fed. He would stop and address the crowds making it clear that following Him was not going to be easy. He compared being His follower to being prepared as a soldier to go to war. He was deliberately thinning out the crowd of followers by reminding them of the cost of discipleship. Jesus was not looking for spectators! He was looking for soldiers of the heavenly kingdom, those willing to pay the price.
Luke 14:31-33 (NIV) "Or suppose a king is about to go to war against another king. Will he not first sit down and consider whether he is able with ten thousand men to oppose the one coming against him with twenty thousand? If he is not able, he will send a delegation while the other is still a long way off and will ask for terms of peace. In the same way, any of you who does not give up everything he has cannot be my disciple."
There is a true story of a young couple, recruits in Jesus' "kingdom corps". This young couple first left the U.S. to become missionaries in 1979. Their second son had been born a few months earlier in the Salvation Army birthing center in Philadelphia, Pennsylvania. It was all they could afford to do. One of their first hurdles was to buy the international plane tickets they needed. This young, naïve couple with 2 small children, little money, no medical insurance, no denominational backing and no promise of local church financial support, set out on a journey of faith and discipleship. They sold the family car for just enough money to buy one-way tickets for their family to Thailand, one of the least reached places on earth. One of the previous missionaries where they were going had suddenly died of cerebral malaria. When they heard about this, they vividly remembered what their Bible college professor had said about having to bury his wife and two of his children in China where he had been a missionary in the early days. This young family had ample time to count the cost before they ever boarded that plane. But their answer to the Lord was, "Yes!"