2 Corinthians 3:18 (NIV)
"And we, who with unveiled faces all reflect the Lord's glory, are being transformed into his likeness with ever-increasing glory, which comes from the Lord, who is the Spirit."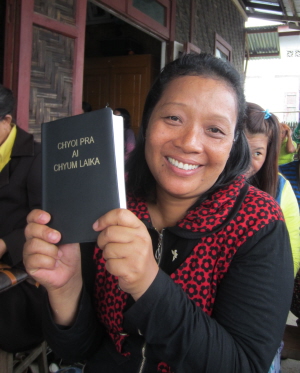 There are many in our world who will admire Jesus during the Easter season as they reflect on the stories of His compassionate miracles and His selfless sacrifice. These are attributes to which many in this world would aspire. In fact, I have been to places in our world where people gladly place an image or picture of "Jesus" alongside the other gods they worship. His life and death story is inspirational and certainly warrants attention and respect. But for those who have had a personal spiritual encounter with Jesus Christ there is a far deeper dimension to Him. His story and the words He has spoken in the gospels, become life changing.
In Christ, there is a personal transformation from fear to faith. I work in cultures where people often serve the "gods of nature". These gods demand daily sacrifices and capriciously punish people with illness and misfortune. When people in such environments discover that there is a Creator God who loves them and sent His Son to die for them, they are set free from fear and they place their faith in this loving God. This is an eternal truth that transforms.
For those who put their faith in Christ there is also a transformation from perplexity to peace. Around the world people are perplexed by the problems of broken relationships, addictions, hurtful actions against friends, family and even strangers. These problems are universal, but the solution found in forgiveness through Christ on the cross, is truly cross cultural. Listen to these words of a former prostitute in Myanmar, "Jesus has worked major changes in my life. Since I accepted Him as my Lord and Savior, I have received true forgiveness, love, satisfaction, fulfillment, joy and peace. I no longer live in my old habits of fear. Christ is the lover of my soul, my friend; He is my Life and Living water."
For those who have placed their faith in Christ, there is an experience of transformation from fear to faith, from perplexity to peace and from guilt to glory. "We are being transformed into His likeness with ever increasing glory." "Glory" is an interesting word. We rarely use it in ordinary conversation about ordinary people. It is usually reserved for soldiers and athletes, those who perform noble feats or achieve physical excellence. But in Christ, He shares His blessing with us, ordinary people, allowing us to experience a radical transformation of life through His Spirit. The Bible reveals the Word of God and Jesus said, "The words I speak to you, they are Spirit and they are life." (John 6:63)
His Word brings transformation.
ERC