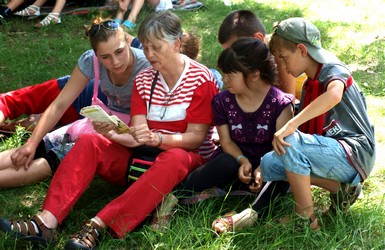 Church planters and Bible Study leaders often engage directly in Children's Bible Ministry of three types: after-school programs, summer camps, and in public or private school programs.
In after-school programs and summer camps, local ministry partners hold informal teaching for children using age-appropriate Bible study curriculum as part of their outreach. We provide these materials and training for teachers. We also support local partners in their Vacation Bible School efforts.
Ministry partners also hold programs in public and private schools. Our partners engage in the formal educational process by teaching on topics related to morals and ethics. We come alongside them to provide training of the teachers and materials. Our partners receive government permission to teach God's Word in schools.
We support children's ministry in order to help reach a community with the Gospel. Bible study booklets and age-appropriate Bibles are provided for children in these school Bible studies organized by our ministry partners.