Children and youth are at a stage of life where they are learning and searching for answers. When they engage with God's Word in Bible study, God speaks to them. And they are answering by the tens of thousands around the world!
Enrique came to the Lord through a Values Education Ministry in the Philippines and was baptized along with over 20 of his classmates and a teacher. Teachers and parents are so happy with the impact of these Bible studies on the behavior of the children and youth involved. This leaves a positive impression of Christianity on families and is the kind of real impact that is changing families, schools and their world.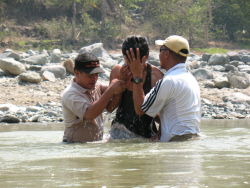 Children and youth are being reached by God's Word in village schools, homes, and at camps and children's Bible clubs. Thousands of children each year put their trust in Jesus through the ministries of our field partners.
The impact on a new generation in a developing country cannot be overstated. These children will become the leaders of their future families and communities.