In developing countries, children often suffer the most. There are around 2 billion children on earth under age 15, and they represent the largest unreached people group in the world.
We make reaching children a priority because they are more open and receptive to the Gospel. Nearly 85 percent of people who make a decision for Christ do so as children between the ages of 4 to 14! Children below 15 years of age make up approximately 30 percent of the population of countries where we serve, and we want to reach them too.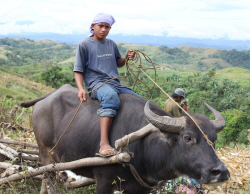 Children in rural villages frequently must help with heavy farm work. They often have little opportunity for educational advancement. In many countries that offer public education, it is estimated that 30 percent of children who should be in school are working on the farms.
Escape from the farms to the larger cities often brings disappointment due to the high cost of living and low wages, or even exploitation.
The coming of the Gospel to their villages brings hope and salvation to their families and often ushers in improvements in educational opportunity, health care and community development. Children benefit in every aspect of their lives when Christ transforms their environment.
Local churches need training, Bibles and Bible study materials to reach out to them through afterschool children's clubs, summer programs, or in their classrooms. Many church planters and local churches minister to the children when they first get to the village. Through the children, their families and villages can come to Christ.