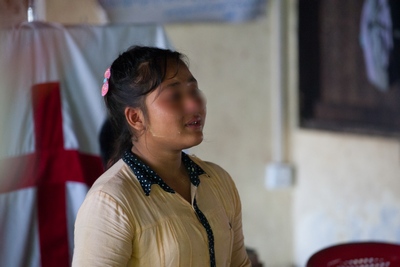 Lwin is a former child slave. When her parents died, she lived with an elderly grandmother in terrible poverty. The situation worsened when the grandmother died, and Lwin was taken by a man and sold as a slave in another village.
"I became a household servant, and felt completely alone. I had a miserable life," she shares.
One day, she was crying in the local market over her terrible situation and a Reach A Village church planter asked what was wrong. Upon hearing her answer, he offered to buy her from her owner. But the cost was too high.
Distraught, the church planter asked God to provide what was needed to release Lwin from slavery. And God answered! The money was miraculously provided and the church planter adopted Lwin into his family.
"I am so thankful God provided a way out for me. There are many more just like me, still in terrible situations. The greatest thing I have received is the love of God and His salvation. He has been faithful, He has answered my prayer. I know this God is real."
When a village is reached with the Gospel, transformation begins. Lwin has been set free from a physical, emotional, and spiritual slavery. Her life will never be the same!
My goal is to reach 20 villages so transformation like Lwin's can continue. We can reach people like her with the hope of our Almighty God who have yet to be rescued from darkness. A gift of any amount will forever transform lives for Christ. Please consider giving to spread the Gospel and reach those that have never heard of Christ.
To donate, fill out the details below (and it is a completely secure and safe way to donate!)
God bless,