Rural farm life offered little future for Sarith*. He left home after high school and found his way into a crowded neighborhood near Phnom Penh, the capitol of Cambodia. A local pastor who had just started a new church in that area helped Sarith get settled and find a place to stay. Within a few weeks, Sarith had heard the Gospel for the first time from this pastor.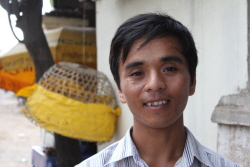 He put his faith in Jesus Christ as his Savior. Such peace and joy came into his life that he wanted to share the Gospel with others. He began helping the pastor with ministry to local children. He plays the guitar, so he also worked to bring other youth and young adults to the Lord. His desire was to take the Gospel to unreached villages near Phnom Penh. The pastor saw his gifts and recommended Sarith for the training so that they could reach nearby villages and start churches. Sarith joined the training and has been hard at work.
He now helps supervise over 17 small-group Bible studies. In one village, he holds three Bible studies each week. In a village of 29 families, he already has a congregation of nearly 100 people. He also has another house fellowship in a village of 60 families that is a few miles away. Working together, he and his faithful pastor have started four new village congregations and 10 regular house fellowship Bible studies. Over 400 people have found Jesus Christ as their Savior through the ministry of these faithful workers.
Trainees with this kind of commitment have a tremendous impact on communities. Our partners track and record these impact statistics to encourage and guide local workers during the training process and to help our donors understand the impact of their sacrificial giving.
*Names have been altered for privacy and security.