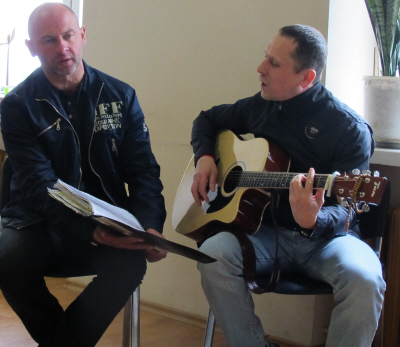 Mykolas in Lithuania had in his mind from a young age some goals for his life. He wanted to look good and make a lot of money. In order to achieve those goals, he became active in a lot of sports starting at age 14 and began earning money at age 17.
Mykolas was always thinking that if he had more money, he would be happier. At age 39, he had reached the peak of his goals – he was pleased with his appearance and had "earned" a million. Yet, he was not happy in the life he thought he wanted. He didn't know how to love others – his mother, his wife and daughter. He was even destroying himself physically.
By 2012, the life Mykolas had chosen for himself landed him in prison. He realized he had wasted the most beautiful years of his life in vanity. In 2013, he started to search for God. Amid all of the evil, lies, anger, drugs and pornography of prison life, Mykolas says that he found a diamond in fellow prisoner Petras. Mykolas discovered that Petras believed in God, and that was what made him happier than others.
Mykolas took his first steps toward God by having fellowship with Petras. Next, he connected with Reach A Village partners who minister at the prison. "I talked to pastors, started to attend their activities," he shares. "In the beginning, I didn't feel anything. I just was listening, and, little by little, trying to start to pray."
One day, Pastor Andrius suggested that Petras and Mykolas get together daily to read the Bible and pray. For the past two years, they have started every day at the prison chapel doing just that! Through their Bible studies together and studies led by Pastor Andrius, Mykolas has learned to be patient, peaceful, and friendly, and to take care of his family and himself.
"I dedicated myself to the Lord, who lived as a man on the Earth. He became the strength of my life, the source of peace, wisdom and love," Mykolas submits. "And all of it came not through the beauty of body or riches, but through God's Spirit."
*Stock photo