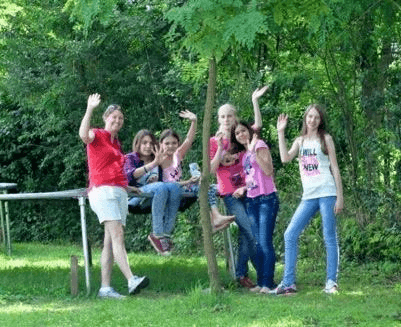 With the summer months in full swing, church planters are busy orchestrating events for their local communities. Summer Bible camps provide a welcomed relief to teenagers in Serbia. Nicole's story demonstrates that just a few days of studying the Word and learning about God can transform a life.
Like most of the teenagers attending the summer Bible camp, Nicole came from a difficult life. Her home life was stressful, and she felt tremendous pressure to fit in with her peers. Nicole often made poor choices in the hopes of fitting in with her friends. Her poor choices only served to make her feel increasingly empty and alone.
By the time Nicole arrived at the summer Bible camp, she had experienced years of loneliness and rejection. She was deeply discouraged and had tried many times to physically hurt herself. At one low point, she had even attempted suicide. But at the Bible camp, Nicole found that she was accepted by the rest of the teenagers attending. She connected with others who also struggled to make good choices amid pressure from worldly influences.
The campers regularly spent time in the Word and discussed the truths they learned. Nicole began to not only feel the love and acceptance of her peers, but also the divine, heart- changing love of her Lord Jesus Christ.
God's acceptance gave Nicole hope. She realized she was part of a bigger family – God's family. The love she felt from this family of believers began to transform her heart and mind. During camp, Nicole accepted Jesus as her Savior.
Becoming part of God's family has given Nicole a new perspective. Today, she makes her choices based on what God has called her to do, not according to what the world says. She has discovered abundant love and acceptance in knowing and walking with God.
By the grace of our Lord and Savior, Nicole is no longer lonely.