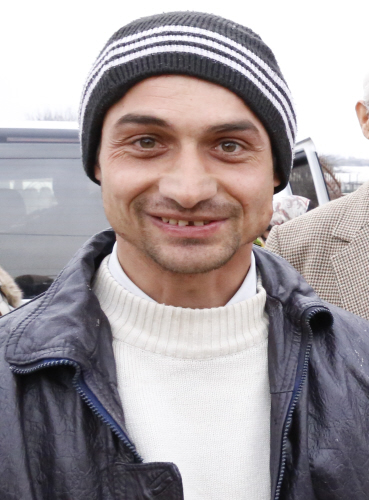 "There is no other comfort than to be a child of God," writes our Romanian brother Derek. Yet, comfort is not the word many would pick to describe Derek's life. Through it all, though, Derek admits that he always felt a voice telling him there was another way to live – a better way.
Derek's life began with illness. On several occasions he should have died.
Raised without Christian education, Derek devoted his life to respecting work and possessions. He lived for himself and for the worldly things he could attain. This lifestyle ultimately resulted in the destruction of his first marriage, an event that sent him into a deep depression.
His second marriage was even worse. "My wife was so frivolous and immoral that she had no problem living in sin in front of her children and me," he tells. She took all of Derek's things and moved to Spain. He followed her there, and in an explosive fight, he unintentionally killed her.
Thinking he would surely rot in prison for the rest of his life, Derek contemplated suicide. But, even then, a voice spoke in his heart telling him there was another path his life might take.
Miraculous things happened while he was in prison. First, Derek met other Romanians in prison, which was a blessing since he could not speak Spanish. God led him to a prisoner with a Bible. Derek traded his electric fan and five phone cards for the Bible and began to read it every day.
All other prisoners lived two people to a cell, but Derek found himself alone for over a year. He spent that time alone with God reading the Bible. "That was a blessed time when I was able to talk to God and hear Him speak to me through His Word. I asked for His guidance step by step, and He in His faithfulness to me answered my prayers with wonders," says Derek.
All of the guilt and shame that had accumulated in Derek's heart began to ease as his relationship with God deepened. And the still small voice of God became the Great I AM revealing to Derek that the laws of God had always been written on his heart.
Other men convicted of murder had been sentenced to life in prison, but God had different plans for Derek. His sentence got reduced. Later, he was moved to a prison in Romania, where his sentence was reduced again. After only five years, Derek was released!
"The Lord helped me to start over from scratch," he shares. Derek was able to get a job, build a new home and start life anew.
"I am not much of a speaker, but my heart is full of desire to share my experience with God with other prisoners," he submits. Today, he regularly visits several prisons to tell other inmates how great God is and how He works wonders in the lives of those who put their trust in Him.