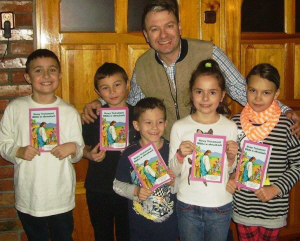 Across the globe teams of believers work to reach the hearts of the lost, to change lives, and to bring the Kingdom of Heaven a little closer. Sometimes it's hard to measure the work these people do. It's especially difficult when it comes to Children's Ministry programs.
Are these children hearing what is being taught? Are they truly understanding in their hearts and with their minds? Will the seeds planted one day blossom into lives lived for Christ?
This month we learned about one little boy whose heart is hungry to know God more.
Daniel is eight years old and lives in Poland. Though his parents are both believers, they were anxious to find Christian role models for their son. With the hope of seeing Daniel earnestly seek the Lord, his parents enrolled him in a children's Bible course.
His mother wrote to the teacher, "After a few classes [Daniel] asked me to read him a Bible story every night instead of regular books. He also asked me to pray with him and to help him memorize scripture." Daniel's family is very busy, yet he chooses to study the Bible with his parents rather than watch movies or play computer games. Daniel's mother reports, "He gave his life to Jesus, and I know that he did it extremely honestly and with understanding. His life has really changed."
Daniel's little brother, who is only five years old, has also started the Bible courses. Thanks to the gracious teachers and his older brother's example, this child is also beginning to have a spiritual revolution.
"I'm thankful to God for His Holy Spirit, and that He has worked amazingly in my children's lives," writes their mother.
Please join us in giving a special thank you to the men and women who devote themselves to training up children in the ways of the Lord, so that when they are older they will not depart from our wonderful Savior.