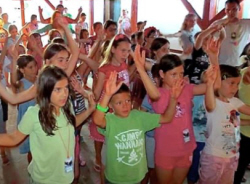 For our church planters, summer is full of activity. The season is always a great opportunity to build new contacts, to reach the hearts of the new generation for Christ and to influence one's local community.
Boban is a church planter in the Serbian village of Nikinci. This summer Boban managed to unite his community through a Christian summer camp program. Due to financial crisis, many villagers were unable to send their kids away to camp or to travel for a summer vacation. With the help and support of Reach A Village partners, Boban was able to organize a camp right in his own village. A variety of workshops and activities were arranged. These events were open to both adults and children within the community.
One of the most wonderful aspects of Boban's summer camp was that children with special needs were also able to attend. These children were able to participate in camp activities, spend time with other kids, develop meaningful friendships, and feel a new acceptance within the village.
By hosting a camp right in town, Boban was able to meet the spiritual needs of his community. The camp allowed him to build new relationships with the adults in his village, and the many activities provided a positive and uplifting vacation alternative.
Praise God for church planters like Boban who are open to the Lord's often spontaneous plans! Because of Boban's willingness to minister to his village, hearts will be forever changed.