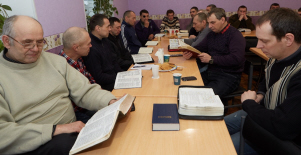 "God answers our prayers before we even pray them!" proclaims one of our church planters living in Ukraine.
War in the region has created great turmoil and upheaval. "Many ministers were forced to leave the ministry and resettle elsewhere," the church planter tells. "Those who are willing to stay are overloaded and find it difficult to provide for their families." The personnel shortage was growing, and at the same time, the demand for ministers seemed to increase tenfold as many are seeking God in the midst of war.
Unsure what to do, the church planters who remained began to pray that God would raise up men and women who could serve these settlements. Miraculously, many men and women have chosen to stay there and serve.
"The main difficulty is that these brothers and sisters do not have the experience or necessary knowledge to preach and teach in their communities," the church planter shares. Again, they prayed for God to intervene. Surely if God had raised up these men and women, He would provide the training they so desperately needed.
God answered these prayers through connecting them with Reach A Village ministry partners in Ukraine. So far, 11 people have been able to attend a series of training seminars that will equip them to lead small-group Bible studies!
"God continues to faithfully answer our prayers!" the church planter says. "We pray for an end to the turmoil in this region of Ukraine, for those who are on the front lines of evangelization, and for the many non-believers who might hear the Word of God and discover Jesus."