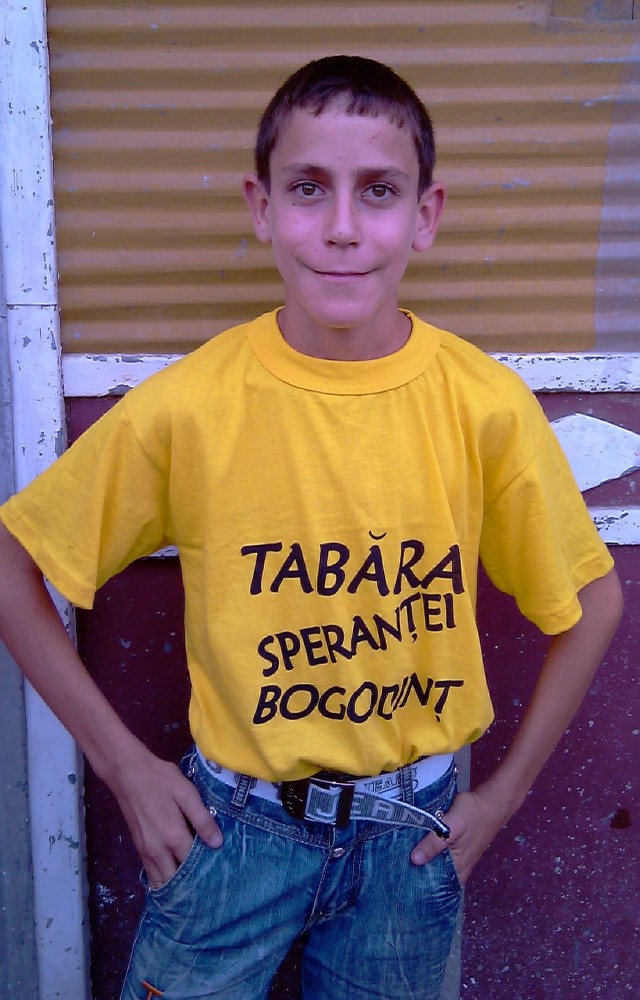 My name is David. I am 13 and I come from the village of Rastu Nou in Romania. Four years ago floods devastated my village. After the floods swept through, evangelical Christians from a nearby town started to come to our village. They built us a small chapel for worship. All of us children were so curious and went to see what went on in the chapel. That was how we first got in touch with God and born again Christians.
The church from this neighboring town also sent a couple of Bible teachers who taught us songs and Bible verses every week. These teachers have continued to come every week for the last four years. I occasionally attended the Bible classes. At one of them, I was invited to go to the Hope Youth Camp.
I liked everything at the camp: the beautiful nature, the food, games, lessons and Bible verses we read. We also learned to pray and sing. I noticed that everybody talked nicely to everyone else; that was another lesson I learned from the camp.
I received a booklet called "Cristina" where I learned the meaning of the colors on the salvation bracelet (black is the color of sin, etc.). I began to understand how important it was for me to read the Bible because it was where I would come to know God better and also learn how to serve Him.
I thought about the floods four years earlier in my village. I realized that even though our house was completely damaged, God had protected and saved my family and me from the floods. I decided to follow God and give my life to Him...
I am so glad that I was able to go to the camp and leave with many new friends! I am also very thankful to God for the sponsors who made it possible for me to go to the camp for free. Without them, I would not have been able to go.
After the camp, I was anxious to go home and tell my parents and my brothers about the experiences I had that week. I wanted to share with them what I learned and all about the new friends I had made. I also planned to show my schoolmates and village friends the Cristina booklet. I told them the importance of the colors and that they represent the story of salvation from hell to heaven. I told them how they could meet the Lord Jesus.
Even though some will laugh at me, and some have already done that, I'll continue to go to the evangelical church in my village. I know that want to serve the Lord all of my life.
Many thanks to those who provided the Cristina booklet and the Illustrated Bible I received. Thank you also for allowing me to participate in the camp, it was like a dream!
Help Support
Church Planters in Romania with the Scripture Resources that they need!
A gift of $60 will proved Scripture Resources for one month.
Online Donation