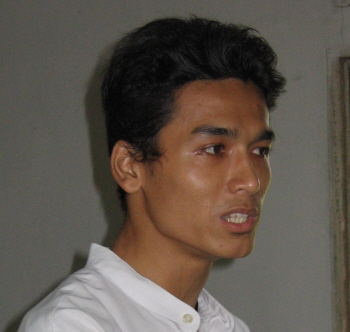 As a child, I never planned on being someone who clashed with the government, got arrested, or spent time in court. But as I was growing up, I began to notice and feel great compassion for the starving, poor and less fortunate people that seemed to be all around me. I was disturbed by how the marginalized people in my country were abused.
I felt helpless and wanted to do something. So I joined a human rights organization where I met others who thought like me and actively campaigned for the rights of others. Our work distributing information and arranging peaceful protests and marches have gotten me into trouble with the government on more than one occasion.
I began to channel all of my energies into supporting these human rights activities. And while I believed in them, I gradually began to realize I could not change the world. The big problems loomed and only seemed to get worse. I felt powerless.
Learning from the Bible
Feeling sad because of my helplessness, I began to think about God. In my religion there is no such thing as a creator or eternal God. Previously, I heard the Gospel from one of my Christian friends. Although I appreciated they were kind and showed me personal interest, I never thought l would become a Christian. In the past, I wasn't ready to change my lifestyle. This time things were different. The Christian Bible was given to me by my friend and he told me, 'This book will answer all your questions.'
I finally started learning the Bible in the Bible study that was not very far from my house. It didn't take me long to understand John 8:32, which reads: 'You will know the truth, and the truth will set you free.' I noticed many Bible passages that teach us to love one another and treat people kindly. I also discerned that God is not the cause of our problems. Rather, our problems have grown worse because most people don't follow Jesus Christ.
I was deeply impressed when I learned of God's love and his long suffering. (Psalm 103:8-14). About this time, I received the book, "Who Is Jesus" and a church planter came to my door and offered me a Bible study, which I accepted. I also began to attend their meetings. As a result, Bible truths began to take root in my heart.
Hope amidst despair
Thanks to the Bible, I was able to make a lot of changes. I quit smoking and drinking. I cleaned up my appearance and speech. And I adjusted my attitude toward secular authority. I also abandoned my immoral lifestyle, an area in which I had been very liberal. It is not by my human effort, but His undeserved favor has changed my life. The hardest change for me was to make a decision to follow Christ. It didn't happen overnight. At first, I felt that I would be betraying my religion if I accepted Christ. However, I came to realized that there is, 'No other name under heaven by which we must be saved.' Jesus is the only real hope for me. I decided to throw all my heart and energy into His hands.
When I was Buddhist, I used to divide people sharply into two groups of either good or bad. I was always ready to act against those whom I considered bad. But thanks to God, I no longer feel strong hatred for others. Rather, I try to cultivate Christian love for all people.
I am glad to see how this benevolent work promotes peace and happiness and gives people real hope. I have gained peace of mind by leaving matters in God's hands. I am convinced that He, as my Savior, never allow me to be destroyed. On the contrary, through his grace, he will protect and perfect me day by day. It brings me great joy not only to know these truths but also to help others put faith in them. I will never be the same again because Christ has changed my life.
Online Donation