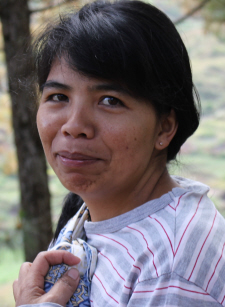 It was a dangerous idea, but Ernielyn knew she wanted to do it. She left her Filipino village years before to seek out an education, and was now returning, married, with a baby, and a Christian. She longed to share Jesus with her tribe. But it wouldn't be easy. Or safe.
Once, the mayor of the region drove into their town across winding, pot-hole peppered mud roads, only to accidentally hit a local man's pig. The owner of the animal heard the news and promptly shot the mayor point blank.
Thankfully, he survived, but others who have been unlucky to cause conflict have not fared so well. The tribe is pegged as dangerous by many because of their frequent attacks on anyone who slights them in the most minor of ways.
Ernielyn knew moving back to her home village wouldn't be easy. Outsiders weren't tolerated, and she was coming home very different than when she left.
"Growing up, I witnessed the killings, hatred and vengeful spirit all too common within my society," she shares. "As a youth, I hoped to escape, so I fled to the city to attend college classes. While there, I met a pastor teaching Bible courses. Hearing about this Jesus quenched the longing I'd felt my whole life for love, acceptance and freedom."
She initially resisted Christianity, but the more she learned and read for herself, she felt the crippling fear and hatred in her own heart recede. The desire to share this newfound love and faith with her family and village strengthened.
Ernielyn returned to her village, a lone Christian in her village. Hungry for more Bible teaching and fellowship, she asked a Reach A Village Bible teacher to come share Christ with people.
"My family and tribal leaders agreed to this, as long as our way of life was never put down," she shares.
The pastor came right away, though it was a long journey and continued to come weekly to lead a Bible study. Slowly, some of Ernielyn's friends and family came to the meetings and more of them began believing in Christ.
The village began to grow in respect of Ernielyn, the Bible study group, and the pastor committed to returning every week to lead them.
Ernielyn also hoped to reach out more specifically to children. She began teaching Bible classes in the local high school with the community's blessing, much to everyone's surprise.
"I was hoping someone would be willing to come and teach spiritual matters here in our school," shared the village school principal. "Please come and teach, especially because it is Ernielyn, because we trust her and know her well."
The Bible classes in the school have exploded. Young people and families are asking questions and filling their spiritual hunger not with killing any longer, but with Jesus Christ.
Ernielyn hardly recognizes the village she grew up in. There is more work to do, but the village bonded by fear and hatred is changing.
"I am so blessed to be part of it. Thank God for what He is doing!"