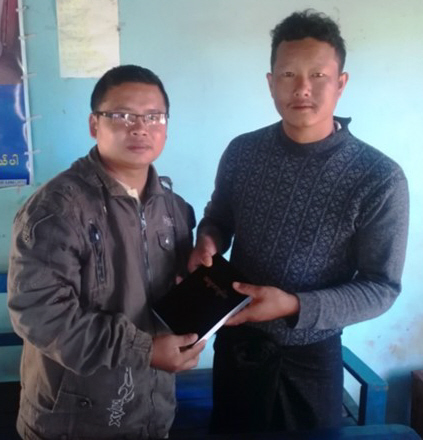 In January 2013, Ike and some friends were traveling on a mountain road in Myanmar by motorcycle. Ike's friend ran into the back of a truck and was killed. Ike sustained some very severe injuries in the accident as well.
Ike recalls, "I broke three bones, and my neck was seriously damaged. When the people saw that I was not moving, they thought I was dead. I remained conscious and knew that something was seriously wrong." Ike was taken to the nearest county hospital and then later transferred to a larger general hospital.
"I stayed on my back for six months," Ike shared. "During that time I had become completely dependent on others. I felt so discouraged that I wanted to die." However, at the same time, Ike also started to think more deeply about life. Does it have a purpose? Why did this tragedy happen to me?
In his search for answers, Ike read Buddhist scriptures, but found them hard to understand and had difficulty accepting the explanation that his current circumstances were the result of reaping bad Karma from a past life. Ike even talked with a Buddhist monk, but found his answers unsatisfying.
Earlier this year, two Reach A Village ministry partners visited Ike. "[They] gave me a portion of the Scripture which they call the New Testament. After I read that book, for the first time I found truth to satisfy my mind, which eventually allowed me to open my heart," Ike explains. As he studied the Bible with other followers of Christ, Ike received the answers to his questions straight from the Word of God.
On February 12, Ike was baptized. "It was one of the happiest days of my life," he declares. Now, Ike devotes his time to sharing with others about the truth found in the Bible and helping them to discover their own satisfaction in a relationship with the Lord Jesus Christ.