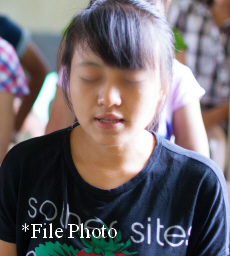 In Yupar's young life in Myanmar, she already had little hope. She says, "When I was in third grade, my mother could not afford to care for me because of family problems. I had to work in a nearby restaurant. Even though I was just a child, I did all kinds of heavy labor."
After four years of hard work and long hours, she left her job at the restaurant and returned to her village. Sadly, she found another terrible situation. Her parents had divorced and had since remarried to other people.
At so young an age, she felt all alone, rejected, and that no one loved her.
A church planter ministering in the village saw her terrible situation. She said to Yupar, "You should pray to Jesus. He cares about the poor and the needy and the least of our society - the hopeless." The Christian lady brought Yupar to a church which gave her food, shelter, and love. She has been adopted and accepted into the woman's family.
Yupar has now been able to complete eighth grade. This child that did heavy labor and was discarded from her family now knows the love of Jesus Christ. Yupar is a believer and is a baptized member of her adopted mother's church.