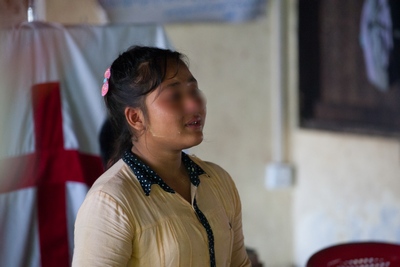 Hunger was something Lwin was all too accustomed to. The pangs in her stomach never went away. Her parents died when she was a toddler, leaving her and a baby brother orphaned and thrust into the arms of a widowed grandmother who could barely feed herself.
"We would boil rice and let my brother drink the water, and sometimes we would be able to scrape enough together to have one meal a day, usually a boiled potato."
Her grandmother washed people's clothes just to make a few cents. Lwin washed dishes for others and did small jobs for people who could afford to pay. But things were falling apart. They were in danger of starving when things spiraled more out of control.
"As a young girl, I depended on my grandmother but because she was old and sick, she also died. I did not know what I was going to do. She was the only relative I had left able to care for my brother and I."
Desperate measures
Vulnerable and scared, there wasn't much Lwin could do when a man in her village sold her off to a family in a neighboring town.
"I became a household servant, and felt completely alone. I had a miserable life."
One day, while at the market carrying out one of her weekly chores of buying food, she began to weep. The tears of deep sadness broke out. She did not know anyone was watching. She did not know anyone cared about her.
Saving grace
A local church planter and his wife saw Lwin with her owner, in the market, crying. They asked what was wrong and upon hearing she was a slave, offered to buy her.
"The pastor and his wife had very little, and could not afford what the man was asking," she shares.
The church planter went home and prayed to God, asking to provide for a way to redeem Lwin.
Not long after, a special monetary gift was given to the couple. They were able to use the money to rescue the enslaved girl. They brought her to safety, they shared Jesus with her; they gave her all she needed.
"I am so thankful God provided a way out for me. There are many more just like me, still in terrible situations. When I got here, I received so much love and encouragement. I was able to escape from my slavery. I have received so much help.
"The greatest thing I have received is the love of God and His salvation. He has been faithful, He has answered my prayer. I know this God is real."