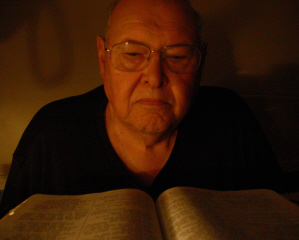 Some people can sleep through a storm. Unfortunately, I'm not usually one of them. I am often awakened these days by thoughts, like voices calling out to me. I try to put them out of my mind, but it is not that easy. I can't get back to sleep. But before you think I'm losing my mind, look at Paul's statement in 2 Corinthians:
2 Corinthians 11:27-28 (NLT)
I have worked hard and long, enduring many sleepless nights. ... besides all this, I have the daily burden of my concern for all the churches.
Luke 8:23-24 tells of a situation where Jesus was awakened when He was trying to sleep through a storm, "As they sailed, he fell asleep. A squall came down on the lake, so that the boat was being swamped, and they were in great danger. The disciples went and woke him, saying, 'Master, Master, we're going to drown!'" (NIV)
The voices I hear are not unlike those that awakened Jesus on the boat that day. The voices are often urgent; they are often from "disciples in distress" telling me about villages that have never heard the Gospel, children in poverty and slavery, and new believers who need Bibles. These are the three things that awaken me.
I have responsibilities for ministry occurring around the world, yet I live in America. There is 12 to 13 hours difference in time zones between here and Asia. Even when I am not suffering jetlag from traveling there, I can find my Asian friends on Facebook in the middle of my nights, when I should be sleeping. I can keep up with friends or breaking global news 24/7/365. Technology has literally turned night into day for those involved in global ministry.
What do I do when I awaken in the middle of the night? I usually pray, read or do research concerning the things that are keeping me awake, trusting God for answers. I think of Jesus. The Scripture tells us that He rose long before dawn to pray in the solitude of darkness, communing with the Father of Lights (Mark 1:35).
I constantly speak to these urgent ministry needs like Jesus did to the storm, but in this case it takes even more than that. What did the Apostle Paul do when his night vision revealed the people of Macedonia calling out for help? Acts 16:9-10 says, "During the night Paul had a vision of a man of Macedonia standing and begging him, 'Come over to Macedonia and help us.' After Paul had seen the vision, we got ready at once to leave for Macedonia, concluding that God had called us to preach the gospel to them." (NIV) What choices do we have when God is calling? How should Christians respond? We pray, we give and we go!
Will you join me in praying, giving and going in response to the needs of our world? What is God calling you to do? I could certainly sleep better knowing that an army of prayer warriors is praying with me. I could sleep better knowing that enough funds were coming in to help us provide Scriptures and training to reach villages full of people waiting to hear the Gospel. If you can't go, then please give. If you can't give, then please pray for these needs! In addition to moving the forces of nature, prayer can move the hearts of people to give, and the Spirit of God can move people to work to build His kingdom.
The next time you can't sleep, will you please join us in praying for every village to be reached, for new believers to have Bibles and for churches to be established? The team at Reach A Village and I cannot possibly carry this burden alone. It will take all of us praying, giving and working together to reach every village with the Gospel in our lifetime.