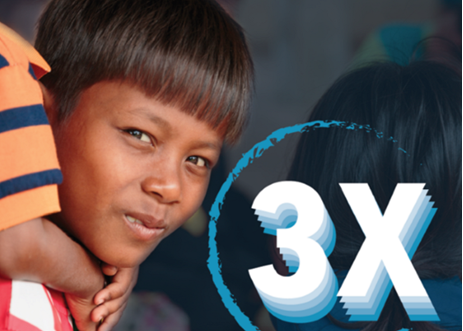 3 Ways to Reach Children. 3 times the Gospel impact!
September 2021, the Philippines: 568 young people received the Lord through Values Education ministry.

Summer 2021, Armenia and Moldova: 1,500 children encountered the living God during Summer Camp experiences led by our ministry partners.

2020, worldwide: 234,734 Children's Bibles and Scriptures were utilized and provided through outreach led by Reach A Village's ministry partners.

Let's join together to help make sure this great move of the Holy Spirit among children continues!

Two donors are now partnering to provide a special triple match — each donor committing to give up to $40,000 — to help make sure the Gospel reaches more children and families. Your gift today will help these precious ones become the faithful believers of tomorrow. Please consider giving today as the match is available for a limited time.

Walking with Jesus can begin at any time in a person's life. But the sooner that walk begins, the better that life will be. We know that meeting Jesus is the relief our children need in today's troubled world.