NEW BELIEVERS NEED BIBLES!
"The response to the Gospel these last two years alone has been phenomenal. A half million new believers! That's a lot of Bibles. And these new believers are not going to be able to afford a Bible. And even if they could afford one, they may not be able to find one."
"That's where we come in. We print and make sure that these new believers have a Bible that they can read and grow in Christ."
-Rev. Bob Craft
Reach A Village Founder and President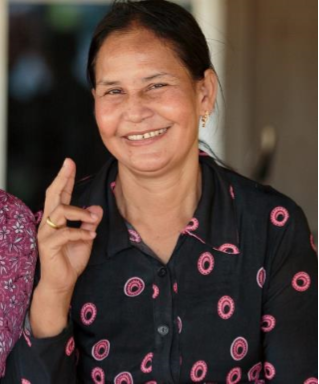 Every year, hundreds of thousands of people commit their lives to Jesus Christ. They need their own Bible to grow in faith, but they live in areas where God's Word is not affordable or easily accessible.
Christians believers in the western hemisphere represent about 33% of the total population of believers. We have about 85% of the resources. Our ministry partners in other parts of the world are asking for our help. They need more Bibles. We can stand with them and provide these greatly needed Bibles to those who are eager to learn more.
HOW DOES IT WORK?
B4NB is a wonderful way to get your church, family or Bible study group involved in providing Bibles to new believers who are eager to receive them. You can help by:
-Prayer
-Requesting a B4NB kit, which includes a large Bible box, brochures, pop up posters, tablecloth, measuring spoons, video brochure, prayer project cards and small Bible box banks to raise funds. There is no cost for a kit.
-Setting a goal and register
-Sending in the funds
-Seeing the impact on lives for Christ!
Each Bible costs just $7. It is a simple and easy way to impact others for Christ!
READY TO TAKE THE NEXT STEP?