Over 94 percent of Thailand's population practices Buddhism, and it is an integral part of the Thai identity and culture. Each year, hundreds of thousands die believing they are hopelessly doomed to an endless cycle of karma and reincarnation. Most never met a follower of Jesus or read a Bible verse. In a country of over 68 million people, fewer than 500,000 are classified as evangelical Christians! Reach A Village has partnered with a Thai church network, the Free in Jesus Christ Church Association (FJCCA), to change that statistic.
Cutting-edge database technology shows that Thai Christians are the most effective at reaching their people for Christ, yet only a small percentage are actively involved in evangelism and discipleship. Reach A Village believes that we can make the most significant impact by helping the FJCCA mobilize, train, and equip Thai Christians with the Scriptures and Bible study materials needed to reach more villages and start churches.
The Harvest database enables workers to pinpoint unreached villages, and God is blessing their efforts in tremendous ways. Last year, 7,320 people began a new life in Jesus and 191 new churches were started! We anticipate even higher numbers this year. On average, more than 600 people are coming to Christ and 20-30 new house churches are started per month! Over 500 people were baptized at a service earlier this year, which is unprecedented in Thailand.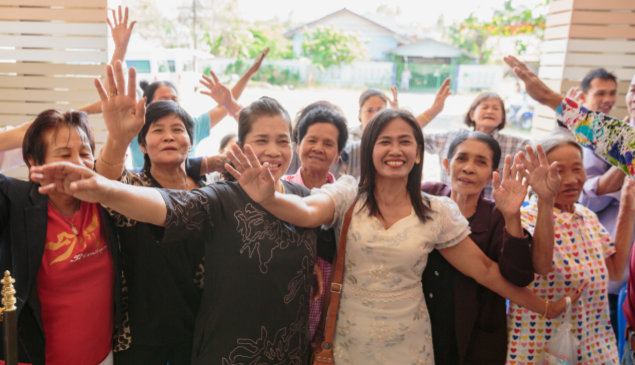 This incredible movement is being fueled by everyday Thai people like Galong, a 50-year-old wife and mother of two children who has only a first-grade education. Before becoming a believer, Galong (pictured at left in pink dress) had serious health issues and was in severe pain. She spent a lot of money trying to find a cure, but no one was able to help her.
Then, one day, her husband was given a Christian pamphlet and urged her to go to a meeting with him to learn more. There, she found Jesus and gave her life to Him. She asked Jesus to heal her, and He did! "My health got better and better and I got stronger and stronger. I was very thankful to God," she says. Her life changed. Her family had peace and joy.
Now, Galong's passion is sharing the Gospel in villages that have never heard before. She was blessed to receive a motorcycle that enables her to do evangelism every day. She goes out in the early afternoon and returns around 8 p.m., then does her job selling noodles along the roadside from 9 p.m. until 2 a.m., and sleeps from 4 a.m. to 10 a.m. Over 1,000 people have begun following Jesus because of her ministry, and she has helped to start around 50 house churches!
Please help Galong and others continue to reach more people for Christ!