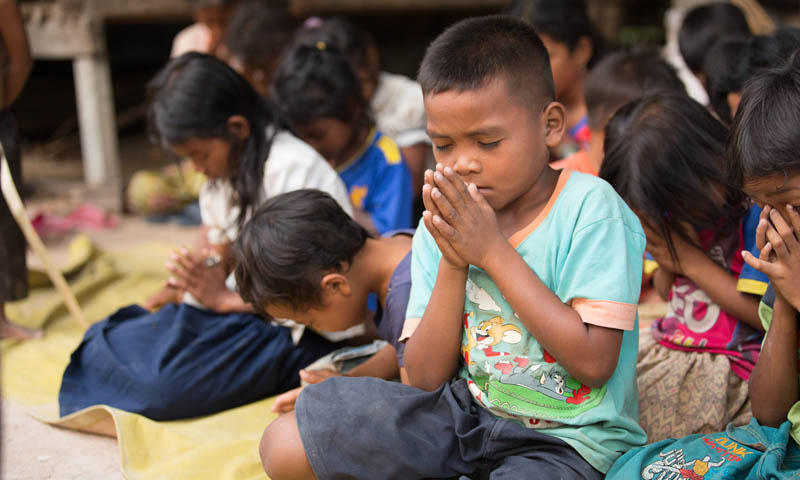 Reach A Village makes ministry to children a high priority because their hearts are so open to the message of the Gospel at this point in their lives. Nearly 85 percent of people who decide to follow Christ do so between the ages of 4 and 14!
In addition, children are extremely vulnerable when it comes to issues like poverty, domestic abuse, underage labor, exploitation, trafficking and the upheaval of war. Our local ministry partners place an emphasis on holding children's ministries in small, unreached villages that have been passed over and forgotten and in areas where there is a desperate need for the hope that God's Word and eternal salvation in Jesus Christ brings.
Nearly all of the local believers who lead children's ministries are volunteers who serve sacrificially. They are trained by local coordinators experienced in children's ministry. Everyone receives Scriptures and study materials specifically designed for the age group, culture and needs of the young people they will be leading.
In a typical village, children may make up 40 percent of the population, so it is very important to have ministry and materials tailored to reach them. Reach A Village helps print and provide children's and youth Bibles and study materials to fuel a passion for God's Word at a young age.
Our ministry partners are so grateful for these materials! Children's materials are often scarce and expensive. Due to the level of poverty in areas where they minister, these specialized items are a luxury that most would never be able to afford.
Our ministry partners hold programs in public and private schools, using the Bible to teach on topics related to morals and ethics. They receive government permission to teach God's Word in schools. We come alongside them to provide training, Scriptures and study curriculum. Many children, and their families, have started attending church as a result of these programs!
We also supply training and biblical materials for ministry partners in local churches who hold after school programs and Bible clubs. They are feeding the children's hunger to learn more about God's Word and helping them to develop a lifelong relationship with Jesus Christ.
Vacation Bible School and summer camps are an excellent way to have a positive influence in the lives of children and adolescents and to teach them about Jesus. Many children don't have good adult role models to talk with about life issues, show them love, and help them to develop morals, godly character and a relationship with the Lord. Children are left on their own to fend for themselves during the summer months.
Vacation Bible School and summer camps offer children these things they crave that are missing from their lives. Plus, it is all done in a fun atmosphere where they can spend time with their friends and make new ones! Over the years, children who have participated have grown up to become a new generation of faithful followers of Jesus Christ who, in turn, work as camp leaders.
By helping to reach children with the Gospel, you not only change their lives, you enable them to help create change as the impact spreads through their families, their communities and beyond. Children's enthusiasm for the Bible stories is contagious, and they often invite family and friends to church. Some parents in Moldova commented, "Together with our children, we are beginning to understand God now."
How children grow up will ultimately determine the course of our world. We want to make sure that they grow up with Jesus in their hearts! Will you join us in telling the next generation about His love?