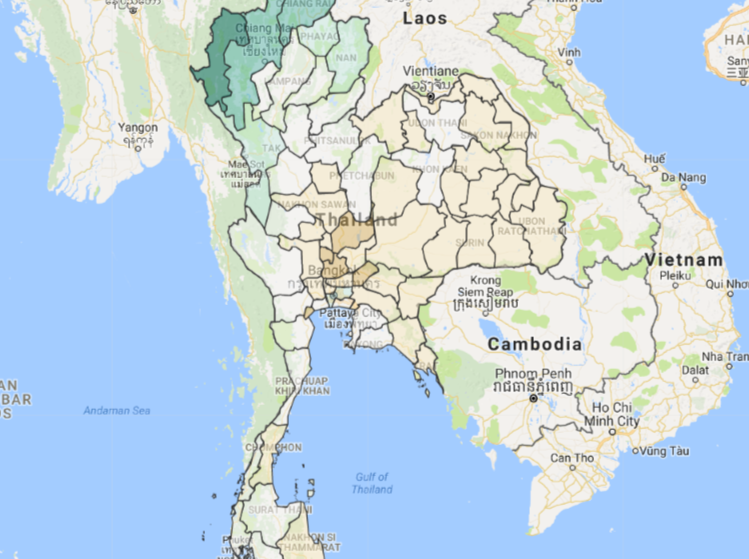 Mapping Technology Helps Reach Villages!
After 190 years of Christian missionary activity in Thailand, less than 5 percent of villages currently have a Christian church. While amazing progress has been made in recent years, more than 75,000 villages still don't have a church! How will these people ever be reached with the Gospel? It won't happen unless someone locates them and brings the Good News to their villages.
A team led by Dwight Martin developed a cutting-edge technology tool that is providing strategic help in Thailand and other countries as well. Harvest Mapping and Research software compiles comprehensive nationwide data into a database that maps existing churches and identifies areas that do not yet have a church. If you would like to explore the Thailand database, click here.
Reach A Village is partnering with local Thai churches and Christian ministry organizations in an exciting endeavor to inform and inspire coordinated national strategies to take the Gospel to these unreached villages. Hundreds of Thai believers are being trained, equipped and mobilized to reach their own people for Christ and start churches. Thousands are following Jesus as a result!
By directing local believers to unreached areas, the Harvest database is enabling them to work more strategically in order to saturate the country with evangelical churches. It also helps track progress in the number of churches started and the annual growth of the Church nationwide.
We are so grateful for this tool to help fulfill the Great Commission! There is an ongoing need for funding to expand the databases to more countries so that they too can take the Gospel to people in every previously overlooked corner of their nation and reach all villages for Christ. The ultimate goal is to have a global database that is shared by everyone working to complete the Great Commission!
Will you help in this Great Commission work?