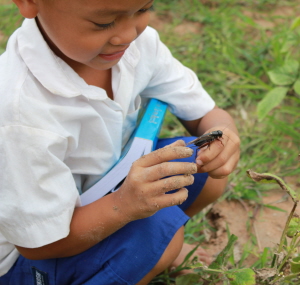 Most of us consider crickets as pests or, at best, as bait to use for fishing. No one I know wants to hear (or find) a cricket inside their house. However, this is not the case for new believers in this Cambodian village.
Over the past few months a church planter has been coming to this village with the Gospel of Christ. It all started with a burden in the heart of a Christian worker to reach out to these villagers along the river bank in the Mekong delta of Cambodia. This particular village had never heard the Gospel. His local church recommended this man to enroll in Local Church Planting.
He began to get to know the local community, listening to their needs and assessing the spiritual hunger. Local villagers quickly invited him into their homes and he began to open the Word of God with them and share Bible stories. He soon shared with them about a Creator God who loves them and wants to bless them. Buddhists do not believe in the existence of a Creator God.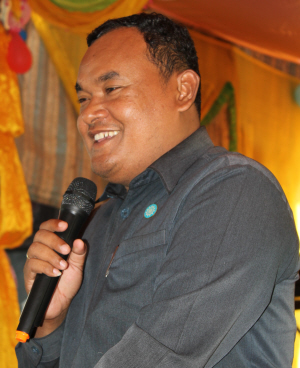 Reach A Village founder, Bob Craft invites you to help support the vision and ministry of our Cambodian ministry partner, the National Christian Churches Network (NCCN-CC.) The Lord has given our team an extraordinary vision: reaching every single village in Cambodia with the Gospel! We believe that a church could be started in all of the approximately 8,000 unreached villages and communities within 5 years!
Many Cambodian people have lived through the war, pain and unthinkable suffering of genocide. So many continue to live without hope, clinging to gods and idols, because they have never heard of the true and living God, Jesus. And it drives our ministry partners to work toward reaching them all with the message of hope, the Gospel of Jesus Christ!
Over the past 10 years, there has been unprecedented growth. The NCCN-CC is a network of 4,000 churches, and the plan is to reach 4-5 villages per day! Hundreds of local Cambodian Christians are united in this vision and are willing to take the hope of Jesus to villages still scarred by the atrocities committed decades ago.
They appreciate your prayers and financial support to help train, equip and mobilize these Christian workers to reach every village for Christ!
To learn more about the NCCN Cambodia, click here. To read more testimonies from Cambodia, click here. To watch the ministry in action, click here. Would you like to learn more about the recent gathering of Christians with Prime Minister Hun Sen? Click here.