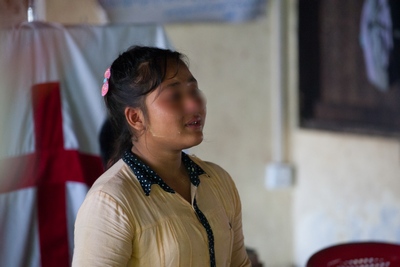 Hunger was something Lwin was all too accustomed to. The pangs in her stomach never went away. Her parents died when she was a toddler, leaving her and a baby brother orphaned and thrust into the arms of a widowed grandmother who could barely feed herself.
"We would boil rice and let my brother drink the water, and sometimes we would be able to scrape enough together to have one meal a day, usually a boiled potato."
Her grandmother washed people's clothes just to make a few cents. Lwin washed dishes for others and did small jobs for people who could afford to pay. But things were falling...
My trouble began when my mother died. Blamed for my mother's death, I was moved around a lot, growing up with different friends and relatives. My father served in the army and was often on the frontlines, never at home to raise me.
My country fell into a civil war; this was the time of the Khmer Rouge. The amount of food that was given to everyone was minimal; often there was no food to eat at all. If people began to complain then they would be killed instantly.
When the war ended, I reunited with my family, including my father, who I barely knew. I decided to move to Phnom Penh to continue...