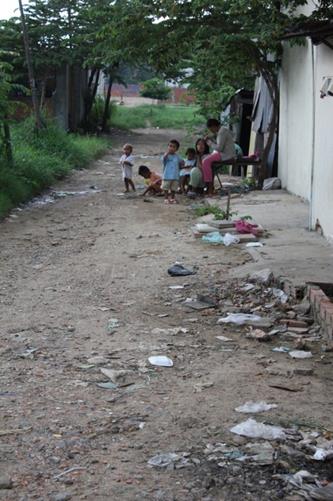 Cambodia, like most of the world is urbanizing very rapidly. Phnom Penh, Cambodia's capitol, has grown to over 1 million people. As in most urban areas, there are jobs available which seem appealing to those in the countryside whose farming only barely feeds the family and leaves little for education of children or improvement of living conditions.
However, upon reaching Phnom Penh many find out that they must continue to struggle with higher rentals, food costs and transportation. These rural poor are often forced into crowded conditions in emerging neighborhoods like the one we visited on the edge of the city. It was a growing suburb near what had been the sewing / clothing plant district. We drove down narrow lanes, lined with what seemed like an exceptional amount of litter. It was obvious that life was difficult here.
Thankfully there are Christians who have moved here in the midst of poverty and difficulty to share the Gospel with these needy residents. The pastor is a single woman who has lived here for 5 years and came here as a church planter and part of the Local Church Planter ministry.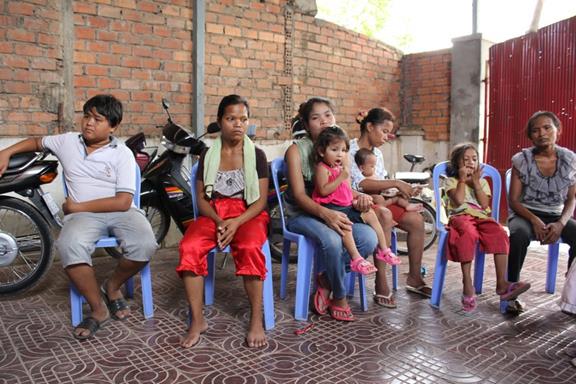 We arrived to find some of the congregation awaiting our arrival. The small service was moved to the garage area outside the rented house because there was a power failure. In these 100 degree plus temperatures and high humidity, you seek out a fan or breeze to keep your clothing from becoming soaked with sweat. It seemed a dismal location for what a delightful story that was to emerge.
It turns out that the location of this house church had been a garbage dump for the city of Phnom Penh. The large bags along the sides of the road were packed with carefully sorted plastic for recycling. Many people in the area eked out a living by sifting, sorting and recycling what was around them.
We were sitting in the "mother" church in that area. This was the first church in that growing community. And this "single" mother of churches was sitting surrounded by people whose lives had been changed by the Gospel. My eyes were drawn to a young man who was obviously waiting to tell a story, his notes spread across his lap.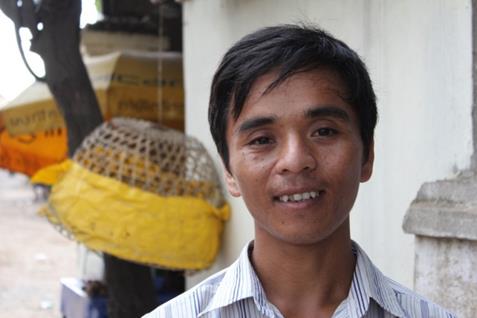 He too had come from the province several hours away from Phnom Penh to seek work. He did not know the Lord Jesus before coming to Phnom Penh although he had met some Christians when he was in high school in the province. They had invited him to a church, but he never went. When he reached Phnom Penh in search of work and a place to stay, he came to this area where others from the provinces had gathered. He was welcomed by this lady pastor who helped him get settled and found him a place to stay. Soon she shared the Gospel with him and a few months later he put his trust in Christ as Creator, Lord and Savior.
He felt such peace and joy that he wanted to share the Gospel with others. He began helping the pastor with children's ministry. He could play the guitar so he also worked to bring to the Lord. The pastor saw his gifts and recommended him for church planter training so they could reach into nearby villages with the Gospel. He joined the training some 13 months ago and has been hard at work.
He now helps supervise over 17 small group Bible studies. In one village, he holds three Bible studies each week. In one village of 29 families he already has a congregation of nearly 100 people. He also has another house fellowship in a village of 60 families some 5 kilometers away. Along with his faithful pastor they have planted 4 new village congregations and 10 regular house fellowship Bible studies. Over 400 people have found Jesus Christ as personal Savior through the ministry of this woman and her faithful workers.